Unlock a T-mobile phone. How to Unlock T Mobile iPhone
The fastest and most safe way to permanently unlock your phone
Unlock your T-Mobile phone
How to unlock T-Mobile device?
T-Mobile SIM Unlock
If you want to unlock a T-Mobile phone for free, you must first meet the following requirements:
Your phone must be fully paid: You must make sure that your phone is fully paid and that you have no outstanding balance on your T-Mobile account. If you're still paying for the device, you'll have to wait until you've completed your payments before you can unlock it.
At least 40 days must have passed since the phone was activated: T-Mobile requires a phone to be active on its network for at least 40 days before you can request an unlock.
There must be no violation of the terms and conditions agreement: If you've violated T-Mobile's terms and conditions agreement, you may not be eligible for a free unlock.
Once you've met these requirements, you can follow these steps to unlock your T-Mobile phone for free:
Get your IMEI number: The IMEI number is a unique 15-digit code that identifies your phone. You can get it by dialing *#06# on your phone or finding it in your device's settings.
Contact T-Mobile: You can contact T-Mobile by phone or chat to request an unlock. You'll need to provide them with your IMEI number and account details.
T-Mobile will let you know when the unlock authorization is approved or send you the unlock code. All you have to do is enter the unlock code: Once unlocked, you'll be able to use it with any other compatible mobile phone company.
Keep in mind that processing times may vary depending on T-Mobile, so it may take a few days for you to receive the unlock code.
How to unlock a T-Mobile iPhone by IMEI?
Apple iPhone devices, including the iPhone 14 Pro, 14 Plus, 13 Pro Max, 13 Pro, 12 Pro, 12, 11 Pro Max, 11, XS Max, X, 8 Plus, 8, 7 Plus, 7, 6S, 6, can also be unlocked through the IMEI, when Apple authorization is approved, simply insert a chip from another carrier and connect to the internet.
How to unlock a T-Mobile Samsung, Motorola, LG, Google, Nokia, OnePlus?
Most new T-Mobile devices have a software lock, and you don't need to type any codes to unlock them. After purchasing the unlock authorization we sell, you simply need to go to the android menu, in the network section, and press the Permanent Unlock button.
How to unlock a T-Mobile mobile phone by code?
If the model does not have the Device Unlock app installed and when you insert a SIM card from another carrier it requests the Network Unlock PIN, this model will be unlocked simply by typing in the unlock code we send you.
Whether unlocked through the app or by code:
The phone does not lose its warranty, nor does it lose any information it contains, such as photos, contacts, notes, etc.
It is a perpetual unlock, you can update and restore the device as many times as you want, and the unlock will not be lost.
The service is online, so it can be done from home or work, there is no need to take the phone anywhere.
Screenshots of the Device Unlock app.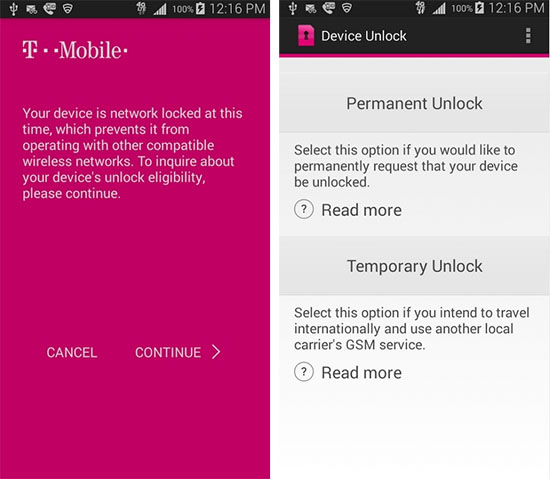 Can I get T-Mobile unlock code Free?
If you have you an T Mobile phone which is locked and you need to use it on another service provider network, you need unlock it. T-Mobile can send you the unlocking totally FREE, but you must meet certain requirements, such as being the original owner of the device and having completed the commitment period with the carrier.
What models has installed T-Mobile device unlock app?
United States devices has installed this app, for United Kingdom or other countries the phone will be unlocked by code.
How to remove T-Mobile unlock app?
To remove T-Mobile app you must change the device firmware, but the phone will be locked, this is a mistake and does not work to unlock your cell phone.
Is it possible get T Mobile SIM card code for free?
Yes, but the device will not be unlocked.
How to get T-Mobile unlocking for an iPhone?
If the carrier does not unlock your iPhone, we can do it! The unlocking authorization takes 7-10 days to process.
Most popular T-Mobile unlockings