Unlock a T-mobile phone. How to Unlock T Mobile iPhone
The fastest and most safe way to permanently unlock your phone
Unlock your T-Mobile phone
How to unlock T-Mobile device?
T-Mobile SIM Unlock
Most new United States T-Mobile device has pre-installed with the official Device Unlock application, this unlocking is a fast and reliable service, and you do not need to type any code, after buying the unlocking authorization that we sell, you simply must enter the app and press the Permanent Unlock button.
If the model does not have the Device Unlock app installed and when inserting a wrong SIM card requests the SIM network unlock PIN, this model will be unlocked typing the unlocking code that we send you.
United Kingdom phones always request the unlock code.
You can restore and reset your device, the unlocking is forever.
Online service, from your own home.
Device Unlock app screenshots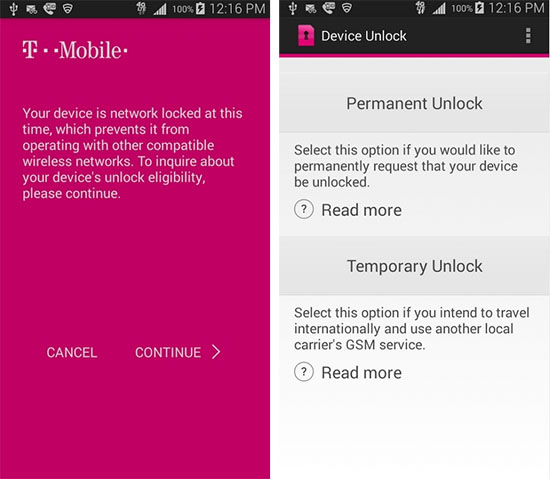 We can unlock all apple devices like iPhone 12, 11 Pro Max, 11, XS Max, X, 8 Plus, 8, 7 Plus, 7, 6S, 6... this devices can be unlocked through Wi-Fi or 4G/3G internet connection.
Can I get T-Mobile unlock code Free?
If you have you an T Mobile phone which is locked and you need to use it on another service provider network, you need unlock it. T-Mobile can send you the unlocking totally FREE, but you must meet certain requirements, such as being the original owner of the device and having completed the commitment period with the carrier.
What models has installed T-Mobile device unlock app?
United States devices has installed this app, for United Kingdom or other countries the phone will be unlocked by code.
How to remove T-Mobile unlock app?
To remove T-Mobile app you must change the device firmware, but the phone will be locked, this is a mistake and does not work to unlock your cell phone.
Is it possible get T Mobile SIM card code for free?
Yes, but the device will not be unlocked.
How to get T-Mobile unlocking for an iPhone?
If the carrier does not unlock your iPhone, we can do it! The unlocking authorization takes 7-10 days to process.
Where can I unlock my T-Mobile device?
You can unlock T-Mobile USA devices from the comfort of your home,
movical.Net
offers this service for US cities such as; Abilene, Akron, Alabama, Alaska, Albuquerque, Alexandria, Allen, Allentown, Amarillo, Anaheim, Anchorage, Ann Arbor, Antioch, Arizona, Arkansas, Arlington, Arvada, Athens, Atlanta, Augusta, Aurora, Austin, Bakersfield, Baltimore, Baton Rouge, Beaumont, Bellevue, Berkeley, Billings, Birmingham, Boise, Boston, Boulder, Bridgeport, Broken Arrow, Brownsville, Buffalo, Burbank, California, Cambridge, Cape Coral, Carlsbad, Carrollton, Cary, Cedar Rapids, Centennial, Chandler, Charleston, Charlotte, Chattanooga, Chesapeake, Chicago, Chula Vista, Cincinnati, Clarksville, Clearwater, Cleveland, Clinton, Clovis, College Station, Colorado, Colorado Springs, Columbia, Columbus, Concord, Connecticut, Coral Springs, Corona, Corpus Christi, Costa Mesa, Dallas, Daly City, Davenport, Davie, Dayton, Denton, Denver, Des Moines, Detroit, Downey, Durham, Edison, El Cajon, El Monte, El Paso, Elgin, Elizabeth, Elk Grove, Escondido, Eugene, Evansville, Everett, Fairfield, Fargo, Fayetteville, Florida, Fontana, Fort Collins, Fort Lauderdale, Fort Wayne, Fort Worth, Fremont, Fresno, Frisco, Fullerton, Gainesville, Garden Grove, Garland, Georgia, Gilbert, Glendale, Grand Prairie, Grand Rapids, Greeley, Green Bay, Greensboro, Gresham, Hampton, Hartford, Hawaii, Hayward, Henderson, Hialeah, High Point, Hillsboro, Hollywood, Honolulu, Houston, Huntington Beach, Huntsville, Idaho, Illinois, Independence, Indiana, Indianapolis, Inglewood, Iowa, Irvine, Irving, Jackson, Jacksonville, Jersey City, Joliet, Jurupa Valley, Kansas, Kansas City, Kent, Kentucky, Killeen, Knoxville, Lafayette, Lakeland, Lakewood, Lancaster, Lansing, Laredo, Las Cruces, Las Vegas, League City, Lewisville, Lexington, Lincoln, Little Rock, Long Beach, Los Angeles, Louisiana, Louisville, Lowell, Lubbock, Macon, Madison, Manchester, Maryland, Massachusetts, McAllen, McKinney, Memphis, Mesa, Mesquite, Miami, Miami Gardens, Michigan, Midland, Milwaukee, Minneapolis, Minnesota, Miramar, Mississippi, Missouri, Mobile, Modesto, Montana, Montgomery, Moreno Valley, Murfreesboro, Murrieta, Naperville, Nashville, Nebraska, Nevada, New Hampshire, New Haven, New Jersey, New Mexico, New Orleans, New York, Newark, Newport News, Norfolk, Norman, North Carolina, North Charleston, North Dakota, North Las Vegas, Norwalk, Oakland, Oceanside, Odessa, Ohio, Oklahoma, Oklahoma City, Olathe, Omaha, Ontario, Orange, Oregon, Orlando, Overland Park, Oxnard, Palm Bay, Palmdale, Pasadena, Paterson, Pearland, Pembroke Pines, Pennsylvania, Peoria, Philadelphia, Phoenix, Pittsburgh, Plano, Pomona, Pompano Beach, Port St. Lucie, Portland, Providence, Provo, Pueblo, Raleigh, Rancho Cucamonga, Reno, Renton, Rhode Island, Rialto, Richardson, Richmond, Riverside, Rochester, Rockford, Roseville, Round Rock, Sacramento, Saint Paul, Salem, Salinas, Salt Lake City, San Angelo, San Antonio, San Bernardino, San Diego, San Francisco, San Jose, San Mateo, Sandy Springs, Santa Ana, Santa Clara, Santa Clarita, Santa Maria, Santa Rosa, Savannah, Scottsdale, Seattle, Shreveport, Simi Valley, Sioux Falls, South Bend, South Carolina, South Dakota, Sparks, Spokane, Springfield, St. Louis, St. Petersburg, Stamford, Sterling Heights, Stockton, Sunnyvale, Surprise, Syracuse, Tacoma, Tallahassee, Tampa, Temecula, Tempe, Tennessee, Texas, Thornton, Thousand Oaks, Toledo, Topeka, Torrance, Tucson, Tulsa, Tuscaloosa, Tyler, Utah, Vacaville, Vallejo, Vancouver, Ventura, Victorville, Virginia, Virginia Beach, Visalia, Vista, Waco, Warren, Washington, Waterbury, West Covina, West Jordan, West Palm Beach, West Valley City, Westminster, Wichita, Wichita Falls, Wilmington, Winston–Salem, Wisconsin, Woodbridge, Worcester, Yonkers
Most popular T-Mobile unlockings