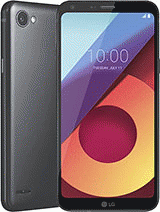 Tutorial to reset a LG M700H Q6 Plus
Nota: This method does not work if your LG has the verification Google account lock, for this you must purchase the premium reset to remove with Google FRP bypass.
In this tutorial we explain how to reset your LG M700H Q6 Plus and leave it fully restored to factory settings, the phone will remain as the first day it is purchased, without any information or programs installed.
If you have forgotten the phone security code or lock pattern, if you want to sell or give away your device to another person, or if your mobile phone is very slow and is very loaded with information, they are usually the most common reasons why it makes a hard reset
Attention: With this process you will lose absolutely all the information, contacts, notes, photos, videos, apps; so we recommend that if necessary, make a previous backup; the information on the microSD memory card is the only thing that would not be deleted
How to Factory Reset android LG M700H Q6 Plus
1. Turn the phone off
2. Press and hold this keys at the same time: Volume Down Key + Power or lock Key.
2b. For any model press and hold Volumen UP key + Volume Down key + Power key
3. Release the Power Key only when the LG logo is displayed, then press and hold the Power Key again.
4. Now, release all keysm and the Factory hard reset screen will appears.
5. Select wipe data / factory reset, (use the volumen keys to move in the menu and Power key to confirm)
6. Now, press Yes -- delete ALL user data and confirm
7. Done! Your LG will restar in a few minutes