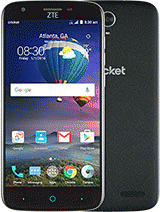 Tutorial to reset a ZTE Z959 Grand X 3
In this tutorial you can reset your ZTE Z959 Grand X 3 and do a factory reset, but beware! all information, contacts, pictures, will be erased.
Attention: This method does not works if the ZTE has Google account locked, for this service you must buy premium reset to remove Google account doingFRP bypass.
How to reset ZTE Z959 Grand X 3
1. Turn off the phone by holding the Power button
2. Press and hold the Volume Down button for about 2-3 seconds
3. While still holding this key press the Power Button for a short while and release keys
4. Then choose, Recovery by using to navigate Volume Down, and to confirm Volume Up
5. Now you see an Android logo press and hold Vol Up for a while
6. While still holding the Volume Up button, press and release the Power button
7. Press Volume Down to choose wipe data/factory reset, and push the Power button to confirm
8. Select "Yes--delete all user data". Use Volume Down button to scroll and Power button to select
9. Now, To restart the phone, select reboot system now