Tutorial to reset a Huawei F316
In this tutorial we explain how to reset and restore factory settings to Huawei F316, the phone will remain as the first day it is purchased, without any information or app installed. p>
If you have forgotten the device security code or the lock pattern, if you want to sell or recover your device to another person, or if your mobile is very slow, has a virus, or is very loaded with information, it usually be the most common reasons for a complete reset.
Attention: With this process you will lose absolutely all the information, contacts, notes, photos, videos, applications; so we recommend that it be necessary, make a previous backup; The information on the microSD memory card is the only thing that will not be deleted.
How to reset a Huawei F316 to factory settings
1. You must turn off your mobile phone.
2. Now you must press and hold the volume up and power keys at the same time until you have the Huawei logo.
3. Choose SELECT FACTORY CLEANING / RESET DATA with the VOLUME UP / DOWN keys (1) and press the OFF / ON key to confirm.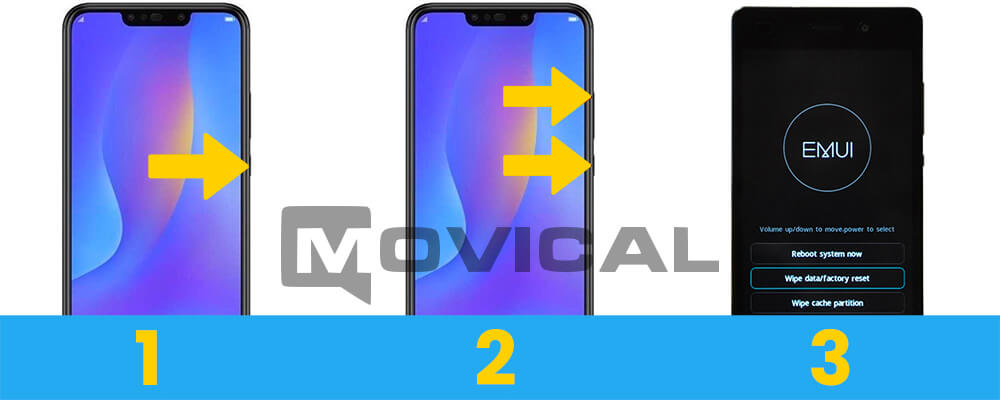 4. The device will be formatted in a few seconds.
5. Done! It is very easy to restore the factory settings on F316.
FRP bypass Huawei F316 (remove Google account) with Huawei Reset Key
Unfortunately this key calculator to reset the Google account is not a Free service, if you are interested you can buy this service at the top of the web.
We remind you that this service helps you to reset your google account with FRP bypass from any Huawei, you simply need a USB cable and a reset key that is generated using the mobile IMEI.
Requirements
1. USB data cable
2. Download, unzip and install the Huawei Reset Key
3. Download, unzip and install the drivers
Tutorial to remove Google account with Huawei Reset Key
1. Purchase in the form above by filling in the IMEI of the Huawei.
2. When the Key is calculated we will send the perfectly detailed instructions to your email.
3. It would simply be, having the phone turned off./p>
4. With the phone turn off, press and hold Volume down and Power keys, while holding the keys connect the USB cable.
4b. (For any models it is not necessary to press the POWER, try both ways).
5. Run the software FRP&SecureBootUnlockTool.
6. Now, paste the RESET KEY sent by email.
7. Finally, press the FRP Unlock button, the program will remove the Google account in a few seconds.